Shipping and Handling for Non-Alcoholic Communion Wine
Delivery Included for orders on Communion Wine to UK mainland addresses. See below for alternate pricing and excluded areas within the UK mainland and offshore.
Note:
As of March 2020 all shipping addresses that fall within the areas listed below will need to request a quote for shipping costs on cases of Non-Alcoholic Communion Wine.
HS1-HS9
IV41-IV51, IV55-IV56
KA27-KA28
KW15-KW17
PA20, PA41-PA78
PH42-PH44
ZE1-ZE3
Note:
As of April 2019 all shipping addresses that fall within the Low and Ultra Low Emissions Zones of Central London (LEZ & ULEZ) will be subject to an additional £1.00 delivery charge for Non-Alcoholic Communion Wine. Addresses that are affected have been outlined below.
Restricted Areas
Please contact the head office for details on deliveries to the Scottish Islands, Channel Islands, Isle of Man, Southern Ireland and Scilly Isles.
Shipping and Handling for All Other Items
We offer free delivery within the UK Mainland on orders of Communion ware and Church supplies.
Please contact the head office for details on deliveries to Scilly Isles.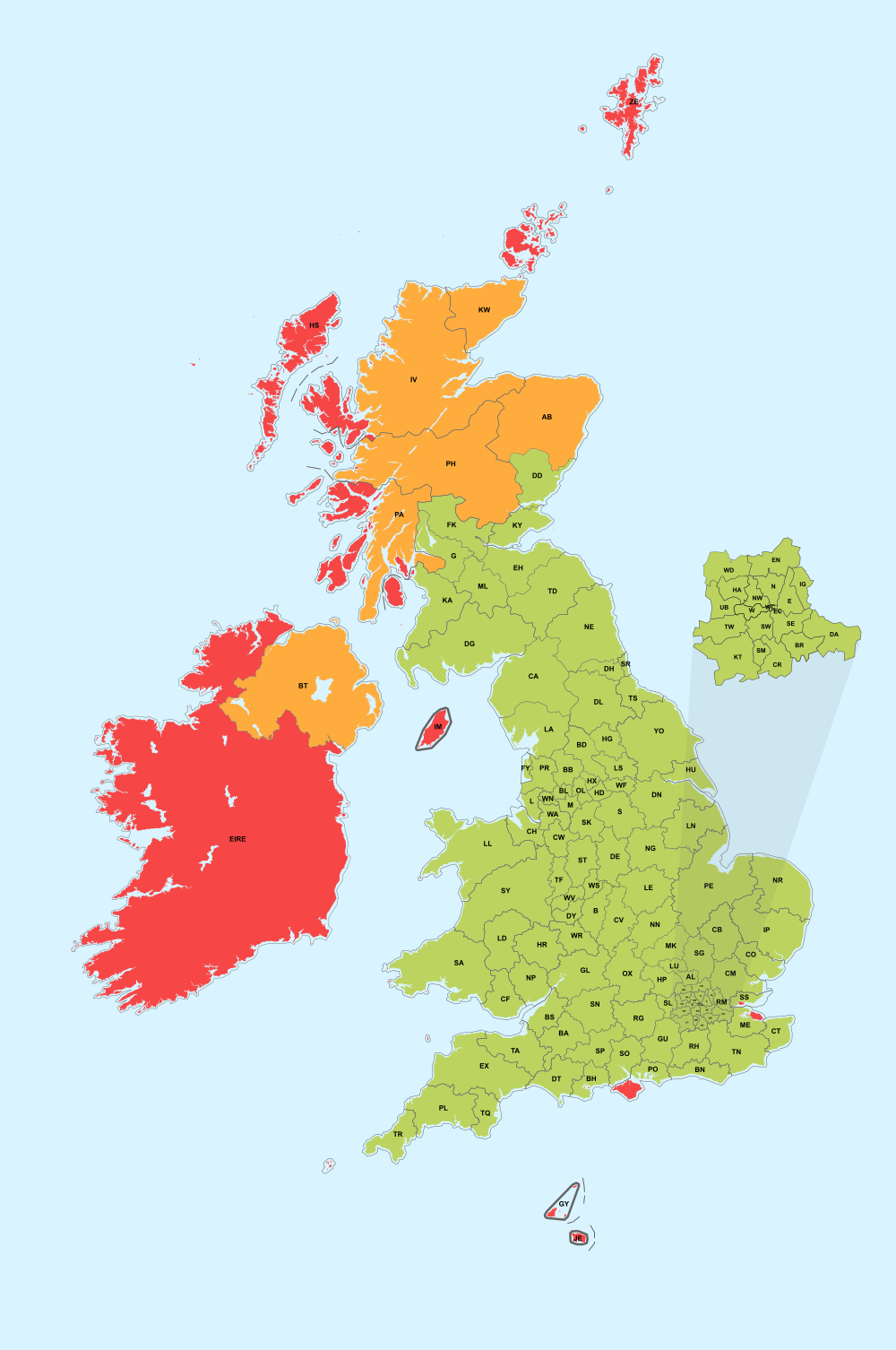 Delivery Schedule for Non Alcoholic Wine and Church Supplies
Please allow a maximum of Two Weeks for Communion Wine and approximately Ten Days for Communion Cups, Altar Breads and Aluminium Trays.  Unfortunately we cannot arrange delivery on specific days and/or times.  Delivery of Communion Wine is made Monday-Friday between 8.30am and 4pm.  Please note the delivery of Communion Wine is effected by an outside courier and we are unable specify a date and time of delivery.  We ask for instructions as to where the Communion Wine may be left should no one be in at the time of delivery.  This information may be given on the checkout page under "Order Notes".
Please allow between Four and Ten Weeks for all other items, including but not limited to Communion Sets, Trays, Bowls, Cruets and other Individual Communion item orders. Though in practice as long as the item is in stock this should be dispatched within a few business days of receipt of the order.  We shall have no liability to you for any failure to deliver goods or services you have ordered, or any delay in doing so, or for any damage or defect to goods delivered, that is caused by any event or circumstances beyond our reasonable control including, without limitation, strikes, lock-outs and other industrial disputes, breakdown of systems or network access, snow, flood, fire, explosion or accident.
Please note Church Supply items are delivered by Royal Mail and as such they are unlikely to follow any special delivery instructions.  If your item is too large to fit through your letterbox, a card will be left with instructions as to how your item may be retrieved.